Just Like the Good Old Days
Quality wild bird habitat with water, food plots and cover for the growth and reproduction of upland birds.
Utah Pheasant Hunting at Pleasant Valley,
the wildest hunt you have ever experienced!
The members and their guests only Orvis Endorsed Hunting Grounds at Pleasant Valley are irrigated, cultivated and managed specifically for Utah pheasant and chukar hunting. The Utah Pheasant Hunting Grounds provide a quality wild bird habitat with water, food plots and cover for the growth and reproduction of upland birds. We offer plenty of birds to hunt by liberating birds into the wild population for each hunt. For rates and membership information visit the membership page.
Members and their guests hunt in large hunting areas with names like the shack, the waterfall, north of the beans, big wash west and the ridge. There they will find a mix of flat and rolling grain fields, brushy draws, high grasses, Russian olive thickets and reed-filled marshland. These and many more hunting areas at Pleasant Valley offer the wildest Utah pheasant hunting, with terrain for every type of hunter and every experience level.
Members and their guests can also warm up or have a little friendly competition on our 5 stand clay course before your hunt.
With over 3000 acres of hunting grounds, members and their guests are able to request the type of hunting area that best fits their hunting style and desired exertion level.
Our professional pheasant hunting guides are expert dog handlers and can always help members who do not have their own dogs get into birds. With an expert guide and a world-class, gun dog members are going to get in a lot of great hunting.
With the snowcapped Uinta Mountains to the north, and a panoramic one hundred mile view from our clubhouse, members enjoy Utah pheasant hunting in some of the most incredible pheasant and chukar hunting country anywhere!  Come pay us a visit and you'll quickly realize why we are the premier bird hunting club in Utah.
Pleasant Valley is the perfect place for corporate hunts if you are planning a large corporate hunt of over 100 birds call to inquire about special package pricing. The clubhouse has space for meetings, hearty dining, a pro shop, and lockers for your gear. Lodging at Falcon's Ledge provides top-notch accommodations and meals for your group.
Pleasant Valley Hunting is an Orvis Endorsed Hunting Ground, this recognition for excellence guarantees our members the best possible pheasant & chukar hunting experience.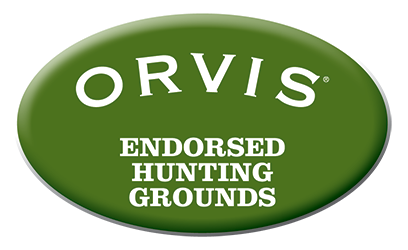 Two Day Membership
Want to experience the hunting at Pleasant Valley?
Give us a call and we can help you arrange a trial hunt to experience the preserve for a day. Non-members can also purchase a two-day membership and experience the best hunting in Utah. Two Day Members are allowed to apply that fee to a full membership if they so choose. The two-day membership gives you all membership rights and privileges for a two day period.
Initial membership fee of $150.00 weekdays, $200 weekends (Friday & Saturday)
Member may bring family, friends, and guests.
Simply pay for the birds released or shot, whichever is greater.
Sign up for News and Special Offers from PVHP
*Newsletters are sent monthly